Robotics - When Machines Insanely Function And Look Like Humans
Whether it was American Canadian sci-fi writer William Gibson who really said that "the future is already here" or not, one thing's for sure: robotics is the future - and it's here. Now.
In fact, it has been here since the 20th century.
Orly Lobel's The Equality Machine: Harnessing Digital Technology for a Brighter, More Inclusive Future (2022), one of The Economist's best books of 2022, will attest to it.
According to an excerpt from that 368-page book, as shared by New York-based media company Freethink, the Japanese plan to integrate robotics right into their very own homes - as "part of the family."
Not a surprising move from the country where the first humanoid robot came from back in the '70s.
COPYRIGHT_NOVA: Published on https://www.novabach.com/robotics/ by Daniel Barrett on 2023-01-31T02:40:40.926Z
Roboticists - people who design, program, and build robots - in Japan already accomplished remarkable things:
robots that offer physical therapy

robots that provide company to the sick and to the elderly

robots that put out fire
Amazing, isn't it? Wouldn't anyone want to welcome those kinds of robots in one's house?
Robotics has fascinated minds not only in Japan but from around the world for decades now. What's new now?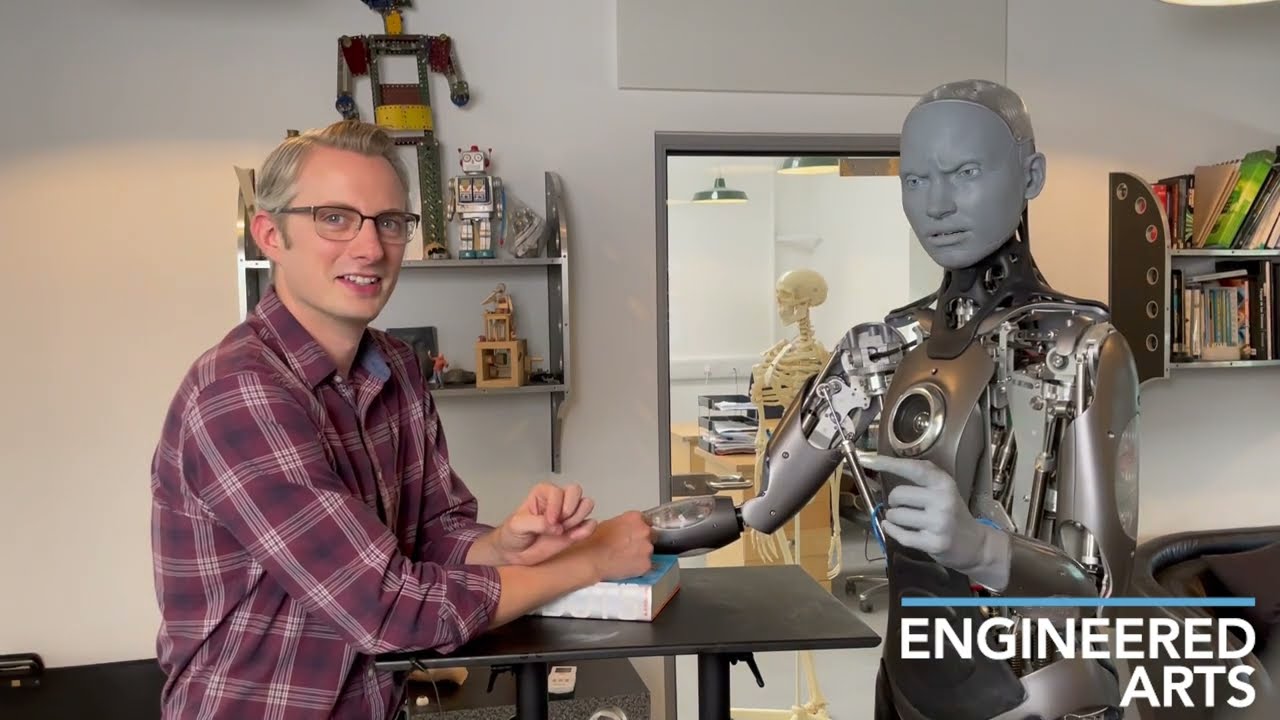 Ameca conversation using GPT 3 - Will robots take over the world?
Gerard Johnstone's "M3GAN" (2022), shot with a $12-million budget, raked in $30.2 million on its opening weekend in the U.S. this January.
The horror-sci-fi film is about a robot doll named M3GAN (Model 3 Generative Android) created by a roboticist, who then assigned it as a caretaker of sorts to her young niece.
No spoilers here, though, but the AI (artificial intelligence)-powered M3GAN eventually turned out to be a killer robot.
Uh, oh. Should people start worrying now about robotics? Will it do more harm than good?
TechTarget offers a simple straightforward definition to this term:
"

"

Robotics is a branch of engineering that involves the conception, design, manufacture and operation of robots.- TechTarget
When American writer and biochemistry professor Isaac Asimov (1920-1992) wrote the short story Runaround (1942), he introduced the term "robotics."
In addition to that, he also presented the "three laws of robotics," according to Encyclopedia Britannica, namely:
1. Robots "may not injure" humans or allow humans to get harmed.
2. Robots "must obey" any orders by humans if it won't violate the first law.
3. Robots "must protect" themselves but should be done without violating the first and second laws.
It appears these laws are what people involved in robotics have in mind. That should answer the previous questions.
Robots are not designed to harm; rather, to help people with their everyday life.
Some of the world's renowned roboticists include:
German Dieter Fox (senior director of Robotics Research at NVIDIA)

American David Hanson (founder and CEO of Hong Kong-based Hanson Robotics)

Japanese Hiroshi Ishiguro (director of Osaka University's Intelligent Robotics Laboratory)

Japanese computer scientist Takeo Kanade

Indian computer scientist Raj Reddy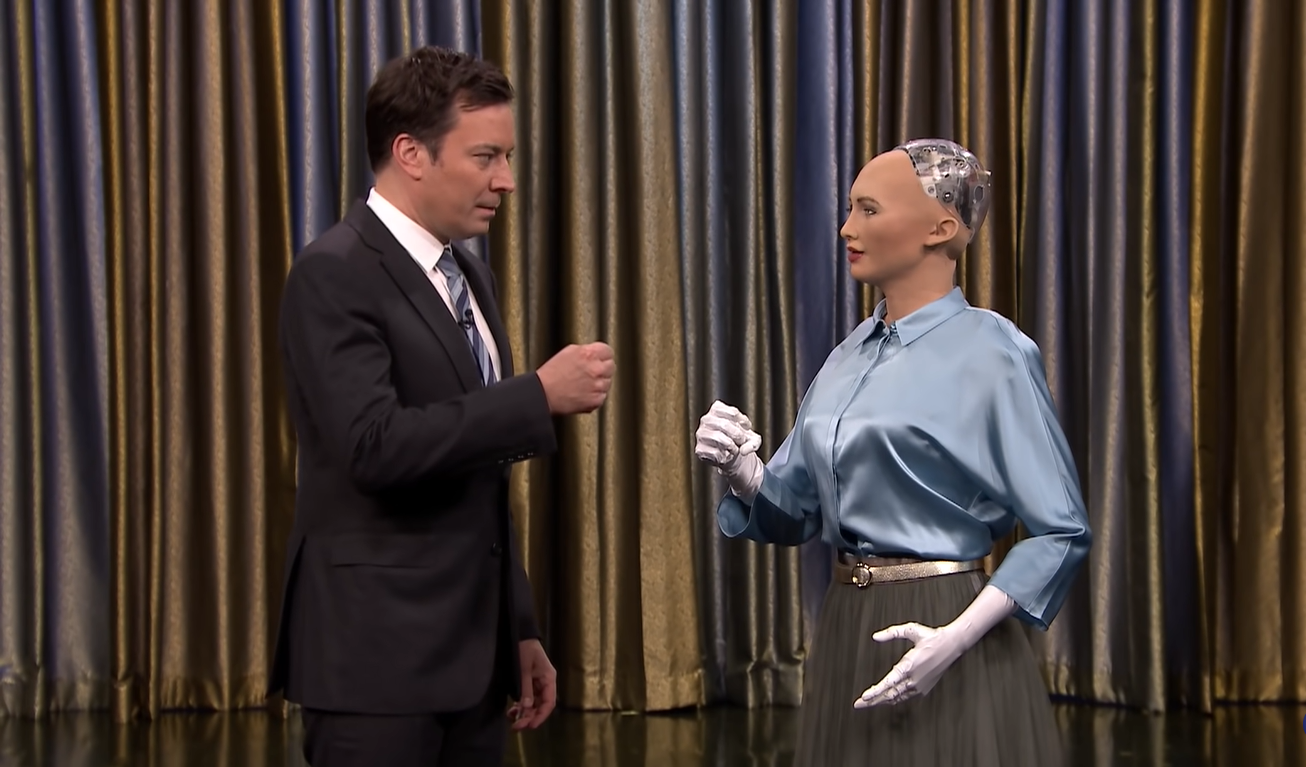 Humanoid robot Sophia playing rock-paper-scissors with the host at The Tonight Show Starring Jimmy Fallon
Yes, robotics commonly take the form of androids (like M3GAN) - robots that resemble a human being or humanoid robots - but they also can be in the form of software technology.
One example of the latter is the RPA (robotic process automation) software, aka software robotics. It's a kind of technology, according to IBM, that imitates how human beings perform certain administrative office tasks.
Not all robots are androids.
In robotics, according to Robots Guide by the New Jersey-based Institute of Electrical and Electronics Engineers (IEEE; est. 1963), robots are classified through these categories:
In robotics, according to Robots Guide by the New Jersey-based Institute of Electrical and Electronics Engineers (IEEE; est. 1963), robots are classified through these categories:
| | |
| --- | --- |
| Category | Example |
| Aerospace (robots that can fly and can be operated in space) | Robonaut (NASA), RQ-11B Raven (surveillance drone), SmartBird (a robot seagull) |
| Consumer | Aibo (robot dog), Roomba (robot vacuum cleaner) |
| Disaster Response | PackBot (bomb disposal and other dangerous military operations) |
| Drones (unmanned aerial vehicles) | Anafi, Global Hawk, Phantom |
| Education | 3D printers, ChihiraAico (sign-language robot), EMYS (teacher robots), |
| Entertainment | Navi Shaman (Disney World), RoboThespian, Partner Robot (Totoya; plays the violin) |
| Exoskeletons (for paralyzed people) | wearable robotic exoskeletons |
| Humanoids (androids) | ASIMO (Honda), Erica (Japan), Nadine (social robot) |
| Industrial | collaborative robots (cobots), UNIMATE (factory robot) |
| Medical | Da Vinci Surgical System, RP-VITA ((Remote Presence Virtual + Independent Telemedicine Assistant) |
| Military & Security | BigDog (carries heavy military gears), Cobalt (security robots) |
| Research | AgileX and RR100 EDU (outdoor mobile robots), Spot (four-legged robot) |
| Self-Driving Cars (autonomous vehicles) | Audi's Traffic Jam Pilot, Google's Waymo project, Mercedes-Benz's Distronic Plus |
| Telepresence (or remote presence robots) | Ava, Double 3, Meeting Owl Pro 360, Ohmni Robot |
| Underwater | ACM-R5H (snake robot), Aquanaut, Ocean One |
Five of the more recent popular androids created include the following:
Junko Chihira

(Hiroshi Ishiguro's creation; 2015; can speak Chinese, English, and Japanese)

Harmony

(talking sex robot or sexbot; by Realbotix; $6,000 for head only and $12,000 including body, as of 2020)

Grace

(nurse robot for COVID-19 patients; Hanson Robotics; 2021)

Jia Jia

(University of Science and Technology of China; 2016)

Sophia

(Hanson Robotics; 2016)
These androids are called feminine humanoid robots (fembots) or gynoids (female robots).
Several industries, among them, the automotive and manufacturing industries, have long benefited from the wonders that is robotics.
It's applied in material handling, from logistics to case packing. In the manufacturing sector, robots are used in assembly, painting and dispensing, and machine tending, among other things.
The number of industrial robots to be used in 2018 alone, according to an article by Ohio University, was predicted to reach an estimated 1.3 million.
Below are the top five industries utilizing robotics:
Agriculture

Food Preparation

Health

Care

Manufacturing

Military
American inventor George Charles Devol Jr. (1912-2011) was the person behind the industrial robot UNIMATE, the first of its kind.
General Motors used it in 1961 for its assembly line, according to World-Information.org.
Based on the paper The Grand Challenges of Science Robotics (2018), as shared by Cosmos Magazine, they include:
how robots can have common sense

ethics-related issues

make batteries that can last longer
Humans need to continuously maintain economic stability. Robotics can help in achieving this goal. For one, it can aid in increasing production.
It's been mentioned here how robotics supports the manufacturing industry.
By 2030 (just seven years from now), according to Simplilearn, automation will be the thing.
When that finally happens, in 2030, an estimated 20 million jobs in the manufacturing sector could be lost resulting in an enormous unemployment crisis.
This could also be one of the challenges in robotics that scientists and business owners should tackle head on.
Share:
Twitter

|
Facebook

|
Linkedin