New Emojis 2023 - Including One For Panic Attack
Have you already heard about the exciting fresh batch of new emojis 2023?
These pictographs just keep on multiplying - and no one seems to be complaining at all!
In 2018, CNN reached out via an email interview to the person responsible for these emojis.
The then-25-year-old Japanese interface designer Shigetaka Kurita created the first emoji in 1999 for Tokyo-based telecommunications company NTT DoCoMo (est. 1991).
The term is a combination of the Japanese:
"e" ("picture")

"mo" ("write")

"ji" ("character")
Collectively, when roughly translated to English, it stands for "pictograph."
In five weeks, Kurita made 176 emojis for the said telecoms company. Their main purpose was to compensate for the limited character space when sending messages.
His labor paid off as they became, according to him, "a big hit right away" in Japan.
The first emoji set by Kurita looks pixelated because they are in 144-pixel resolution only. On the contrary, the modern emojis have since been made in unlimited resolution.
Now that you know it's not really from the word "emotion" (such a wrong notion), wait until you learn about the new emojis 2023.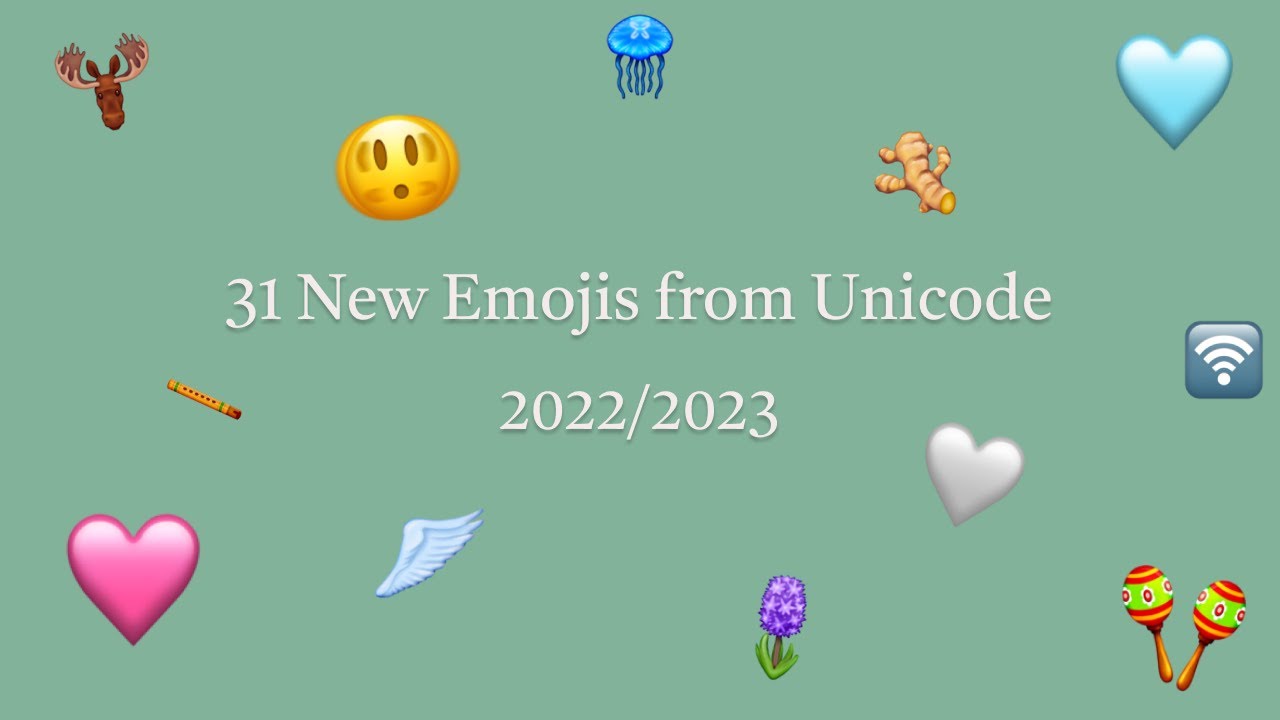 🤍 New Emoji 15.0 (2022-2023) from the Unicode Consortium
Per Emojipedia- the encyclopedia of sorts for emojis launched in 2013 - as of September 2021, the Unicode Standard has 3,664 emojis.
The Unicode, its shorter term, is a standard "for identifying characters in text in nearly any language," according to Techopedia.
Per Reader's Digest, some of the new emojis 2023 are/will be (some are yet to be released) from the following categories:
1. Animals
black bird (not be mistaken for a crow)

donkey

goose

jellyfish

moose (head only; also called elk, an animal from the deer family)
There's also one animal part: a single white wing.
2. Hand Icons
leftwards pushing hand

rightwards pushing hand

both in six skin colors
Emojipedia noted how two persons communicating can use the pushing hand emojis to make "an actual high five emoji" - a wonderful addition indeed to the new emojis 2023.
3. Hearts
gray heart

light blue heart

pink heart
In a 2022 report by The Wall Street Journal (WSJ), Emojipedia's Editor in Chief Keith Broni said that every year, he would receive "dozens if not hundreds" of requests for a pink heart emoji.
4. Plants/Food
5. Objects/Things
hair pick

folding hand fan

flute

maracas (an instrument commonly used in Latin music)
6. Symbol: khanda
the symbol of Sikhism, a 15th-century religion and philosophy founded in Punjab

represented by two curved daggers/knives called

kirpan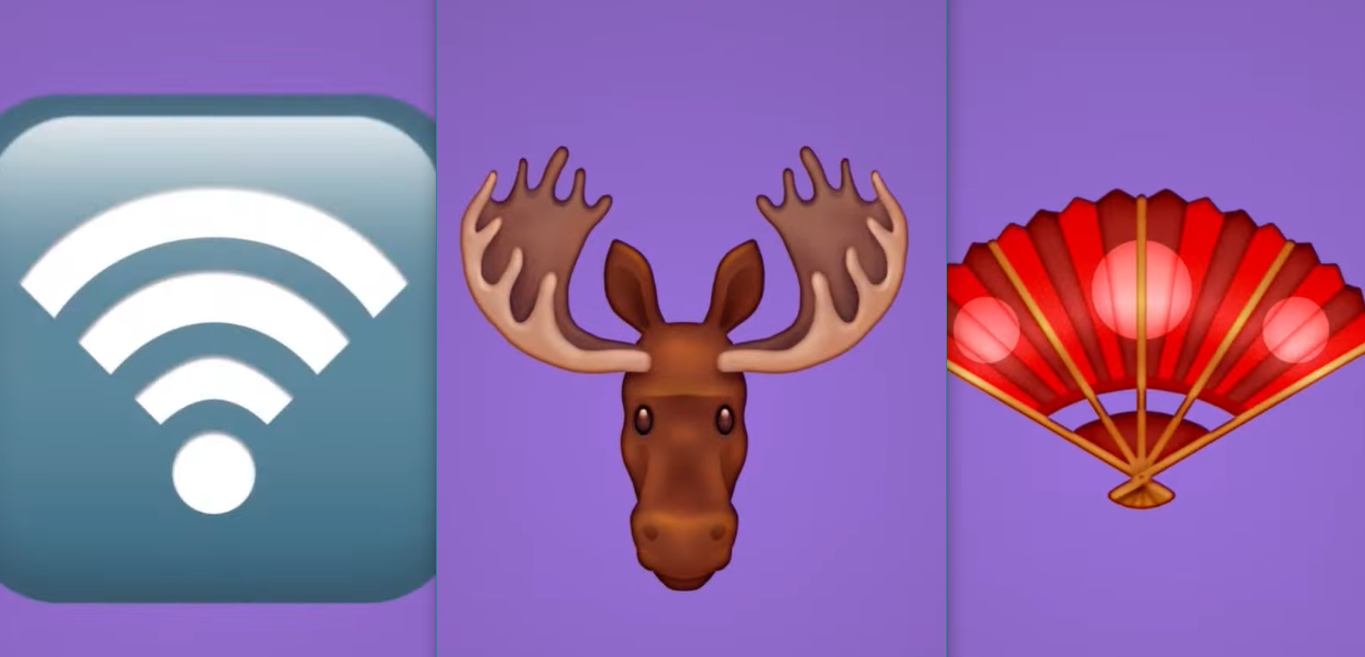 Wireless emoji in white outline and blue green background, moose head emoji, red folding hand fan emoji
Perhaps there's no such thing as an oversupply of emojis as people keep on asking for more.
Below is a table that shows the number of emojis approved per year as published by Emojipedia. It's based on the draft release notes released by Unicode:
| | |
| --- | --- |
| Unicode's Emoji Version | Number of Approved New Emojis by Unicode |
| Emoji 13.0 (2020) | 117 |
| Emoji 13.1 (2021) | 217 |
| Emoji 14.0 (2022) | 112 |
| Emoji 15.0 (2023) | 31 |
When CNN asked Shigetaka Kurita what emoji he likes the most, here's his reply:
"

"

The heart is my number-one favorite emoji, because among the various emoji, [its meaning] is very positive.- Shigetaka Kurita
The new emojis 2023 include three hearts.
As for the emojis sent on iOS, according to an article published in July 2021 by Hack Reactor, a Texas-based software training institute, the usual top ten emojis, per Emojipedia, are:
Face with Tears of Joy

Red Heart

Loudly Crying Face

Smiling Face with Heart-Shaped Eyes, aka Heart-Eyes

Face Throwing a Kiss

Face with Rolling Eyes

Skull

Smiling Face with Smiling Eyes (or the blushing emoji)

Weary Face

Thinking Face
For the most widely used emoji in 2022, it was a tie between Face with Tears of Joy and Loudly Crying Face, according to Emojipedia.
What could be the most popular one among the new emojis 2023?
In September 2022, the Unicode Consortium, a nonprofit organization founded on January 3, 1991 that promotes the Unicode Standard, met to discuss what latest emojis would be approved.
The set of new emojis 2023 called Emoji 15.0 consists of 31 proposed emojis that will be upon approval of the 32-year-old organization.
In July 2022, entomologist (an insect expert) Dr. Perry Beasley-Hall from the University of Adelaide in Australia tweeted about how happy she was for the "panic attack emoji."
Dr. Beasley-Hall was referring to the shaking face emoji.
The updates for the new emojis 2023, as mentioned by Keith Broni in his article for Emojipedia, could happen "in the first half of 2023," perhaps before the World Emoji Day (July 17, 2023).
Emojipedia's founder, the 38-year-old Australian Jeremy Burge, created the said event.
The new emojis 2023 for Androidand iPhoneare the ones previously mentioned, but when it comes to emojis made available after an iOS upgrade, they include the following, per CNET:
bubbles

disco ball

melting face

empty nest

nest one with eggs on it

saluting half face

hamsa

(pagan symbol for fertility; an amulet popular in the Middle East)
According to the YouTube channel MacMost, here are the requirements for the new emojis 2023 for Apple devices:
iOS 15.4

iPadOS 15.4

macOS Monterey 12.3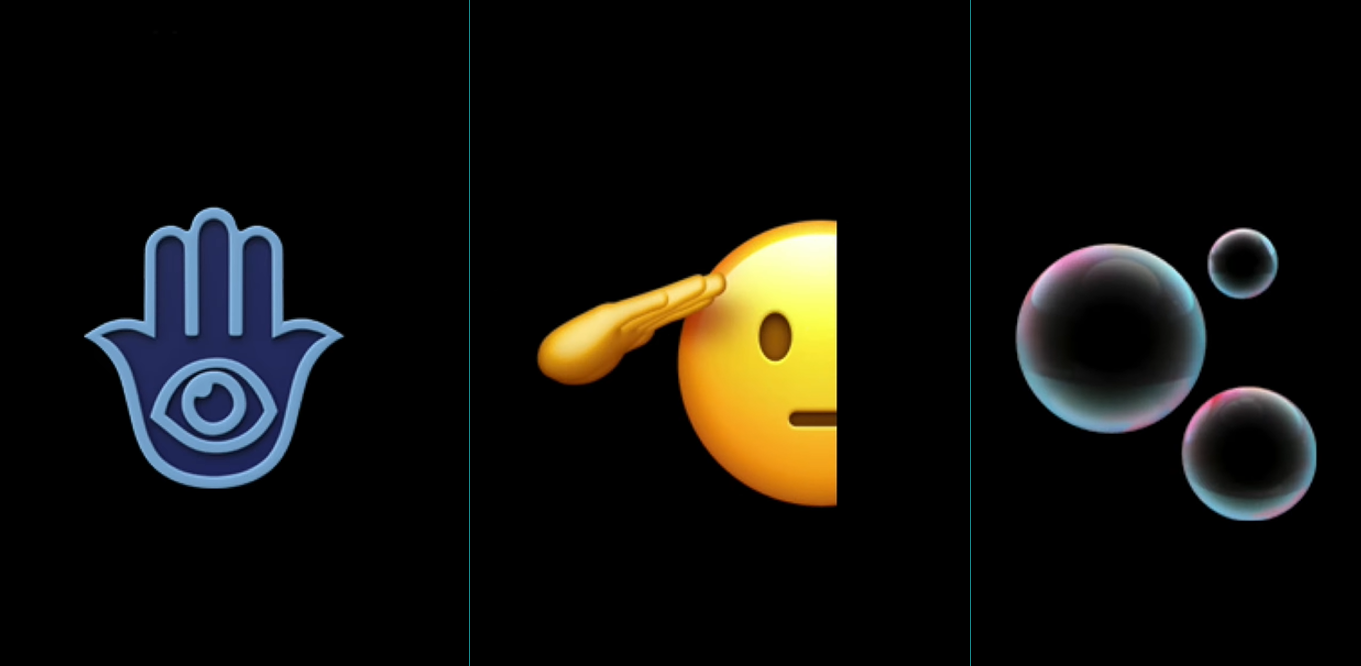 A blue hamsa emoji showing a hand with an eye on the palm, a saluting half face emoji, and bubbles emoji
Techguide website MakeUseOf recommends the following steps for Android users:
1. Download the latest version of Android.
2. Use the feature Emoji Kitchen from Google Keyboard.
3. Install another Android keyboard (a third-party one).
Based on an April 2022 Insider article, in TikTok, there are 46 "secret" emojis there. They're all supported by Android and iOS mobile apps.
On your smartphone, type the codeword and enclose it in a pair of square brackets (e.g., [happy]).
Yes, there is, according to Emojipedia. It was added in 2021. It's color green and one version of it holds a club.
For sure, several out there couldn't wait for the time that all these new emojis 2023 would finally all be made available.
Every day via Messenger, according to the same July 2021 Hack Reactor article, over 900 million emojis are sent.
Twenty-five years after he created something that forever impacted the way people communicate, Kurita, who will turn 51 this 2023, will again see a new batch of emojis.
If before they were only a hit in his country back in the late '90s, they - and these new emojis 2023 - are now a global sensation.
Share:
Twitter

|
Facebook

|
Linkedin