2020 iPhone 12
We're months away from the launch of the 2020 iPhones, which are expected in September 2020, and rumors have already surfaced about the upcoming devices.
Expectation of the 2020 iPhones to be called the iPhone 12 and iPhone 12 Pro if Apple follows the same naming scheme it used for the 2019 iPhone lineup is up in the air.
The 2020 iPhones will feature major updates, introducing some of the first design changes that we've seen since the iPhone X was launched in 2017. We're expecting four iPhones in three display sizes which could come in at 5.4, 6.7, and 6.1 inches.
Rumors suggest the 6.7-inch iPhone and one 6.1-inch model will be higher-end OLED devices with triple-lens cameras, while the 5.4 and 6.1-inch models will be lower-end iPhones featuring dual-lens cameras with a more affordable price tag. All iPhones in 2020 are expected to feature OLED displays regardless of price.
At a rumored 5.4 inches, the 2020 iPhone 12 would be the smallest iPhone Apple has released since the 4.7-inch iPhone 8. At 6.7 inches, the 2020 iPhone 12 Pro will be Apple's largest iPhone to date.
Design wise, rumors suggest at least one of the new iPhones will feature a significant redesign with a metal frame similar to the frame of the iPhone 4.
There could be a new TrueDepth camera system that cuts down on the size of the notch on the front, and there are rumors of a 3D triple-lens rear camera system that uses a laser to calculate depth information for objects in the room, improving both photography and AR capabilities.
2020 will see Apple introduces 5G support in the iPhone, allowing the new devices to connect to 5G networks that are much faster than 4G LTE networks.
Apple's iPhone naming plans have been confusing ever since the iPhone 8 debuted alongside the iPhone X in 2017, skipping the iPhone 9 entirely. Apple continued on with the confusing naming scheme in 2018 with the iPhone XS, XS Max, and XR, but things became clearer in 2019 with the iPhone 11, iPhone 11 Pro, and 11 Pro Max.
We've previously seen Apple do a numerical increase and then an "S" year, but because the changes expected in 2020 are so significant, it's unlikely that we're going to get an iPhone 11S or similar, and more likely that we're going to see an iPhone 12.
If the lower-end followup to the iPhone 11 is named the iPhone 12, then we can expect the two higher-end devices that are coming in 2020 to be the iPhone 12 Pro and the iPhone 12 Pro Max.
Design
The 2020 iPhones will feature an overhauled design with a metal frame that's similar to the frame of the iPhone 4.
Ming-Chi Kuo a renowned Apple analyst says that the new iPhones will use a more complex segmentation design, and new trenching and injection molding procedures.
The overall design will resemble the iPhone 4 with a squared-edged stainless steel frame between two pieces of glass. The new iPhone will feature a stainless steel frame, which will replace the current rounded stainless steel frame, and it will continue to use front and back glass for the body of the device.
The grooving and injection molding of the metal in the frame is said to reduce the negative impact of metal shielding on the high-frequency transmission efficiency of the internal antenna. Kuo believes Apple will use sapphire or tempered glass to protect the grooves in the frame.
Size Options
Rumors suggest Apple will offer four iPhones in three different sizes, but the sizes are said to be changing in 2020.
So far, rumors indicate we'll see a 5.4-inch iPhone, a 6.7-inch iPhone, and two 6.1-inch iPhones. 5.4 inches is smaller than the current iPhone 11 Pro, while 6.7 inches is bigger than the current iPhone 11 Pro Max.
One 6.1-inch model and the 6.7-inch model will be higher-end iPhones, while the other 6.1-inch iPhone and the 5.4-inch iPhone will be lower-end models and successors to the iPhone 11. The higher-end iPhones will feature newer camera systems with triple-lens setups, while the lower-end iPhones will feature dual-lens camera setups.
Display
Though Apple is expected to continue offering two higher-end iPhones and one lower-end iPhone in 2020, all of the devices may come equipped with OLED displays this year, with Apple doing away with LCDs for its iPhone lineup.
Apple's use of OLED across the iPhone lineup will allow for "more flexible handset design." The company is testing OLED displays from Chinese firm BOE Display, which makes LCDs for Apple's iPads and MacBooks. Apple has been using Samsung OLED displays in recent OLED iPhones and is expected to continue doing so.
The upcoming iPhones are expected to adopt a Samsung technology called Y-OCTA, that allows touchscreen circuitry to be directly patterned on the OLED panel without the need for a separate layer, resulting in a thinner display and lower production costs, though it's unclear if this translates to a thinner body design.
Future iPhones could adopt the Apple Watch's low-power LTPO display technology. LTPO (Low-Temperature Polycrystalline Oxide) has an Oxide TFT structure that uses up to 15 percent less power than LTPS (Low-Temperature Polysilicon), the backplane technology that Apple currently uses. It's not entirely clear if Apple will adopt this technology for the iPhone 12 or a future iPhone.
Some of the iPhones coming in 2020 are also rumored to include touch-integrated displays supplied by LG, with LG also planning to switch to LTPO backplane technology in the second half of 2020, perhaps supplying more power efficient displays for some 2020 iPhones if the displays are ready in time.
ProMotion Technology
Rumors from Samsung leaker "Ice Universe" on Twitter have suggested iPhones coming in 2020 could feature a switchable 60Hz/120Hz refresh rate. Apple already uses ProMotion technology in the iPad Pro, so it's not too farfetched to believe the technology could be extended to the iPhone in the future.
A14 Chip
Rumors suggest TSMC will manufacture the 5-nanometer chips Apple will use in its 2020 iPhone lineup. The 5-nanometer process will produce chips that are smaller, faster, and more battery efficient due to improved thermal management.
TSMC will begin producing A14 processors for the 2020 iPhones in the second quarter of the year.
RAM
Barclays analyst Blayne Curtis believes the iPhone 12 Pro models will pack a massive 6GB RAM, while the iPhone 12 will have 4GB RAM.
Battery
The iPhones coming in 2020 could have some small gains in battery capacity as Apple suppliers are working on a custom battery protection module that's 50 percent smaller and thinner than the same component in previous iPhones. That could free up valuable space in the iPhone.
Rear Cameras
Apple made major changes to the rear camera system in the 2019 iPhone lineup with the new triple-lens setup of the iPhone 11 Pro and Pro Max, and 2020 may bring even more camera improvements.
Rumors suggest Apple will add a laser-powered time-of-flight (ToF) 3D rear camera to the iPhone 12 Pro, which will bring significant improvements in augmented reality experiences.
A ToF camera system employs a laser to calculate the time that it takes for the laser to bounce off of objects in a room, using the data to create an accurate 3D image of the surrounding area. This allows for more accurate depth perception and better placement of virtual objects, and it will also result in photos better able to capture depth.
The camera is said to be able to capture areas up to 15 feet from the device. Apple's selfie TrueDepth camera uses similar 3D technology but because it's infrared and not laser-powered, it only works at distances of 25 to 50 centimeters.
The high-end 6.1 and 6.7-inch iPhones are rumored to be getting sensor-shift image stabilization technology, which could potentially bring image stabilization to the ultra wide-angle lens on those devices.
Sensor-shift technology allows the optical image stabilization to be applied to the camera sensor, rather than the individual lenses.
2020 iPhone 12
TrueDepth Camera System
Ming-Chi Kuo believes that at least one new iPhone in 2020 will feature a smaller front camera lens for an improved screen to bezel ratio, ultimately resulting in a smaller notch at the front.
Apple supplier AMS has announced new camera sensor technology that allows the RBG light and the IR proximity sensor used for the front-facing TrueDepth camera system to be embedded under an OLED display. Apple could potentially be planning to introduce the new sensor tech in its 2020 iPhones, and this would allow Apple to create an iPhone with a smaller Face ID notch.
Touch ID?
Though not echoed by other rumors, Taiwanese site Economic Daily News believes that at least one of the iPhones coming in 2020 will use an ultrasonic fingerprint sensor manufactured by Qualcomm.
We've heard ultrasonic fingerprint sensor rumors before, but most rumors have suggested that Apple is targeting a 2021 launch date for the technology. Qualcomm in late 2019 unveiled a 30x20mm in-display fingerprint sensor for smartphones that Apple could take advantage of.
Barclays analysts have also suggested 2020 iPhone 12 could use acoustic fingerprint technology, and Chinese site The Global Times has suggested Apple will release a notchless phone with an under-display fingerprint sensor aimed at the Chinese market.
Apple analyst Ming-Chi Kuo believes Apple is working on an iPhone with both Face ID and an on-display fingerprint sensor for launch in 2021 rather than 2020. Kuo's prediction is based on Apple's patents related to fingerprint on display technology and the continued use of the feature in Android smartphones.
5G Connectivity
Apple plans to transition back to Qualcomm modem chips instead of Intel chips, using Qualcomm's 5G technology in its 2020iPhones. Qualcomm and Apple were previously embroiled in a bitter legal battle, but managed to settle their disagreements in April of 2019.
All of the 2020 iPhone 12 will use 5G technology, according to Apple analyst Ming-Chi Kuo. All four iPhones will feature Qualcomm's X55 5G modem chip.
The X55 chip offers 7Gb/s peak download speeds and 3Gb/s upload speeds, these numbers are theoretical maximums and actual speeds will depend on carrier network. The chip is Qualcomm's first 5G chip that supports all major frequency bands, operation modes, and network deployments.
There are two types of 5G networks — mmWave (faster and limited in range) and sub-6GHz (slower but wider spread) and there could be some differences in which countries support which specifications. mmWave 5G technology will likely be limited to major cities and dense urban areas because of its short range, while 5G networks in rural and suburban areas will use the slower sub-6GHz technology
Kuo believes iPhone models with mmWave and sub-6GHz support will be available in main markets like the U.S., UK, Australia, Canada, and Japan, while in some other countries, Apple may offer iPhones with just sub-6GHz connectivity. sub-6GHz could be disabled in countries that have shallow 5G penetration.
Apple may be planning to use Qualcomm's modems but not Qualcomm's RF front-end components due to time constraints, which could potentially impact maximum wireless speeds, though we'll need to see how Apple's implementation plays out to know for sure.
Release Date
Apple is expected to release the 2020 iPhone 12 and 12 Pro models (names tentative) in September of 2020.
July 30
Update: Apple Confirms This Year's iPhone 12 Models Will Be a Little Bit Late
Update: The iPhone 12 has been released and now available, click here to check the reviews and the full specifications
Apple CFO Luca Maestri confirmed that Apple is expecting to release this year's iPhones later than usual.
Maestri said that Apple last year started selling iPhones in late September, but this year, Apple projects supply will be "available a few weeks later."
Qualcomm also hinted that the ‌iPhone 12‌ launch could be delayed past September when it said that there would be a "slight delay" of a "flagship phone launch" in the fourth quarter, which corresponds to when Apple typically releases new iPhone models.
July 28
Update: LG Display to Supply 20 Million OLED Panels for 6.1-inch '2020 iPhone 12'
Apple is expected to launch an all-OLED iPhone lineup this year, and while Samsung is understood to be providing the majority of the OLED panels, LG Display is reportedly poised to benefit the most from the extra demand, with Samsung's order volume rising only slightly on previous years.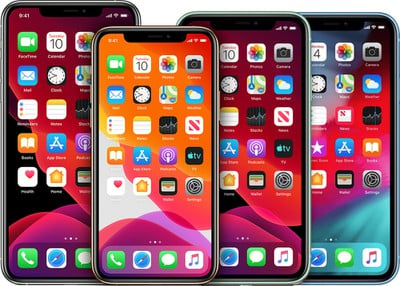 Of the four new models coming this year, rumors have indicated that Samsung will supply the displays for three models: the 5.4-inch entry-level ‌iPhone 12‌ and 6.1-inch and 6.7-inch "‌‌iPhone 12‌‌ Pro" models. Samsung is reportedly planning to ship 30-35 million displays for the 5.4-inch model and 15-20 million displays for each of the high-end 6.1-inch and 6.7-inch models. Meanwhile, LG Display is expected to supply 20 million displays for the low-end 6.1-inch model.
July 23
Update: New Apple Battery Filing Suggests 'iPhone 12 Pro' Could Get Higher Capacity Than Previously Thought.
Apple is expected to release four iPhones this fall, including one 5.4-inch model, two 6.1-inch models, and one 6.7-inch model. As a refresher, based on earlier certifications, MySmartPrice previously interpreted the capacities of Apple's ‌‌iPhone 12‌‌ models in the following manner:
Apple ‌‌iPhone 12‌‌ (5.4-inch) – A2471 – 2,227mAh
Apple ‌‌iPhone 12‌‌ Max (6.1-inch) – A2431 – 2,775mAh
Apple ‌‌iPhone 12‌‌ Pro (6.1-inch) – A2431 – 2,775mAh
Apple ‌‌iPhone 12‌‌ Pro Max (6.7-inch) – A2466 – 3,687mAh
Related Roundup: iPhone 11, iPhone SE 2020, iPhone XR, iPhone XS